Beginnings was a five week series at Riverview on the Old Testament, culminating with Easter services highlighting prophesies that point directly at Jesus.
The original design called for many trees/roots, then we talked about sunflowers, then a single tree, then saw Andrew Hunt's Blue Ridge Origin set and decided we should ask to use the idea.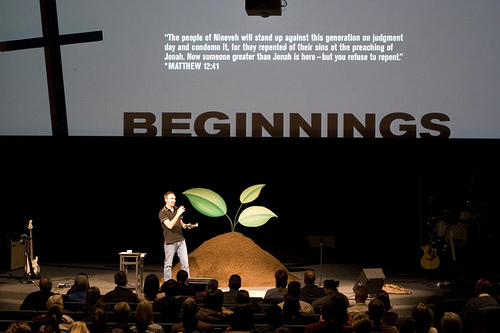 So, over the course of almost a week we constructed this set. There is a steel stud wall across the full length of the back wall (about 54 feet) with 3mil plastic and polymuslin cloth covering it. Attached to the back of the wall are 25 LED lights and the cross (also made from steel studs covered with plastic and material) is attached at the architectural truss and to the back of the wall.
The gray area and lettering is all projected on our white wall.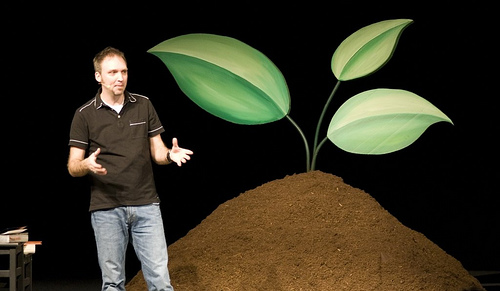 The 'dirt pile' is actually a structure of wood and chicken-wire with landscaping fabric covering it and 10 cubic feet of peat moss spread over the structure. The leaves are 1.5in Styrofoam that was cut with a jig-saw, painted and then holes were drilled in the ends to put bent PVC pipe into. The PVC was bent then spray-painted.
It may not sound like all that much but it was a long build.