The ACME Anvil Co. series at Riverview is coming to a close so I thought it was about time I get the build information up…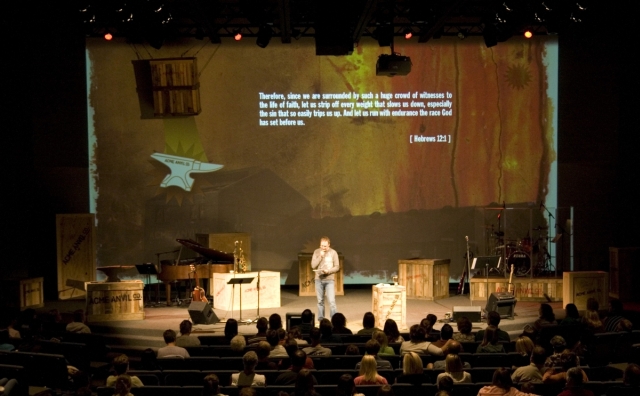 The series "ACME Anvil Co." is about weights, things that slow us down from going all out for Jesus.
What we did: The set is comprised of shipping crates made from disassembled pallets and some new materials. We were able to round up about 4 dozen pallets over a period of a month prior to the beginning of the series. Pallets are made to be structurally sound so taking them apart perhaps wasn't the best idea but the alternative was spending a lot of money to get all-new materials.
There were tons of folks that got involved in this build and a handful of companies that donated materials. It has been great to have the help from people around Riverview grow as we continue to do more aggressive sets.
We put some 4×4 legs on the drum riser and 'skirted' it with pallet materials. One crate was hung stage right and a replica anvil was made and set on one of the crates. Kristie made two stencils that we used to spray the logo on the crates. Five additional crates were constructed for our other venue.
Tomorrow we're transitioning to our new set for the next series.